So what would a themed cycling gift look like?
It would be an experience that you create that involves cycling. The gift part is the creation of the experience and spending the time together. Another component of the gift may be a physical gift that adds to the experience or is used during the experience. Creating these are a ton of fun. The other joy in this gift is that the recipient gets to enjoy the anticipation leading up to the big event!
With so many different types of places to ride in our area the possibilities and ideas are really endless. I'm going to outline a few ideas to start to get you inspired.
A Picnic in the City
This could be a family trip, parent child or a romantic day.
The Mount Vernon Trail runs from Mont Vernon up to Arlington Virginia while paralleling the Potomac River. The views can be stunning and there is plenty to stop and see along the way. There are lots of parks to enjoy a picnic lunch in. If a picnic isn't your thing head into Old Town Alexandria and enjoy one of the many restaurants. Don't forget your bicycle lock. One of the coolest spots to enjoy a picnic is Gravelly Point Park where the planes fly directly overhead arriving and departing from Reagan National Airport. Another great location to picnic is Roosevelt Island.
There are plenty of places to park along the trail and start your journey but one fun way to get to the trail would be to park at the National Harbor and ride across the Woodrow Wilson Bridge to the Mount Vernon Trail.
Want to make a weekend of it?
Hotel options are a plenty. Stay on the Maryland side at National Harbor or the MGM Casino. Or check out the options in Old Town Alexandria or the Arlington area. You could spend one day exploring the Mount Vernon Trail and the next riding around the monuments or on the WO&D which joins the Mount Vernon Trail. Not up for riding two days in a row? there are certainly plenty of other activities to do. Amanda and I took a kayak tour of the Potomac one time and it was incredible. See the city from a completely different viewpoint.
The Mount Vernon Trail is paved and relatively flat. Perfect for riders of all abilities. I've shared more of my experiences here about the Mount Vernon Trail.
A Romantic Weekend Away
If you know me I love St. Michael's. It offers so much to do and there are so many things close by to do if you tire of the activities in St. Michaels. It's distance from us is great for a weekend getaway or simply a day trip.
There are plenty of B&B's for lodging options. If B&B's aren't your thing there is a hotel just on the outskirts of town but still with easy access to the downtown area. Easton offers a few more hotel options but isn't going to give you the ability to walk to everything in St. Michaels but does offer access to Oxford. My recommendation would be to stay in St. Michaels. You could also go by boat and anchor in the harbor or tie up at one of the many marinas.
The cycling is flat and in most areas the shoulders are very generous in width. There are two must do rides when here. One is a loop from St. Michaels to Oxford and returning via the Oxford Bellevue Ferry. I wrote more about that in this post. the second ride is out to Tilghman Island. Exploring Tilghman is like stepping back in time. There are a few restaurants in Tilghman to replenish the calories you expended in getting there.
Other ride options include exploring the roads that go out to the points off of Route 33. Many of these have parks at the end.
After your ride you can spend the day exploring the shops or visiting the Chesapeake Bay Maritime Museum to name a few things.
Harpers Ferry
The C&O Canal passes right by Harpers Ferry. If you haven't experienced the canal you are truly missing out! There are plenty of places to access the canal but Harpers Ferry offers a lot to do. For riding you can start above or below and ride to Harpers Ferry or start in Harpers Ferry and ride another direction. More thoughts on riding in this area.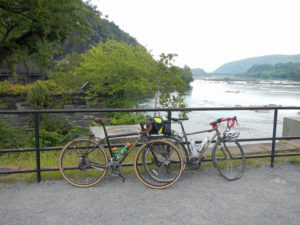 Once there you can take in the history of town at the National Historic Park. Want to make a weekend of it but not ride both days. Take a hike on the Maryland Heights Loop or on one of the other hikes near by. Tubing is another popular activity for the area to.
Charles Town West Virginia is not far away and has lodging options and a casino if that is your thing.
With all the options you could make this a family weekend, romantic getaway or it is appropriate for scouting groups.
Some other areas to consider when looking for the perfect location for your gift.
Capital to Capital Trail from Richmond, VA to Williamsburg, VA
Raystown Lake – rent a cabin and ride your bike.
C&O Canal and GAP – ride your bike from Pittsburgh, PA to Washington, DC or anywhere in between.
Want to stay local?
The BWI Loop – watch the airplanes land.
Bacon Ridge – mountain biking in our backyard
Rosaryville State Park – mountain biking
Tomorrow I'll share some of the gift ideas to increase the joy in the experience you are creating.