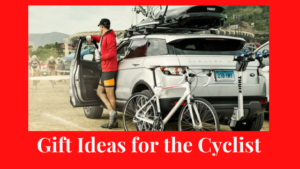 Are you at a loss of what gift the cyclist on your list needs?
Maybe you just created a cycling themed adventure and you need a gift to go along with it?
Check out my other posts about themed cycling gifts.
Here are a few ideas to get you started. Have questions or need inspiration? Reach out I am happy to help.
Bike Rack for the Car – Getting the bicycle to the ride location doesn't need to be a struggle. A bike rack will protect both the car and the bicycle while making the cyclists life easier. Not to mention the extra space inside the car for more cycling friends to come along. What we need to know. The make, model and year of the car. Does it have a receiver hitch? If so the size, 2 inch or 1 1/4″
Matching Jerseys – If you are giving a great cycling adventure how about matching jerseys for you and those joining you.
Handlebar Bag – These are invaluable for storing all of the important things you need to bring along.
Daytime Lights – Motorcycles and cars have been using daytime lights for years. Now there are daytime lights for bicycles. They have proven to increase cyclists visibility to others while on the road.
Nutrition Products – These make great stocking stuffers. Your body being properly fueled during the ride is important.
Rear Bicycle Rack – Are you always looking for more space to bring stuff along with you? A rear rack will allow the use of a rack trunk or panniers. Giving you plenty of space to bring lunch, store some extra clothing or even enough to spend an overnight.
Rack Trunk – Need some extra space? These are ideal to place lunch in, an extra layer or two of clothing and don't forget your camera to document the day.
Panniers – Planning a longer adventure? Commuting to work. Panniers offer more space to bring your stuff. Planning an overnight ride like the C&O and or the GAP. You'll need panniers.
Bike Lock – You'll certainly want to explore some of the areas you ride to. A bike lock will bring peace of mind knowing that your bicycle is secure as you are off exploring.
GPS Cycling Computer – You've created a great adventure why not load the routes onto a GPS? These computers make navigation easy. Finding rides for where you are is easy to. GPS Cycling computers will track lots of other information as well and apps offer creative ways to share your cycling adventures too. They can pair your photos with your rides and create a video of your adventure and more.
More gift ideas.
Essential Accessory Checklist for the cyclist.