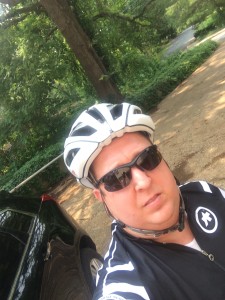 I made a mistake. Possibly a huge mistake. I had been putting off riding in my new Assos kit, but then I couldn't. I had personally been worried that my new kit wouldn't fit. You see I have been a little lax in my diet and the riding is not at the amount it should be.
So today I went for a ride and I did it in my Assos kit. Assos shorts (T.cento_s7 size XL), base layer (NS.skinFoil_summer_evo7 size III) and jersey (SS.mangussta_S7 size TIR). It fit!  It actually did better than fit, it felt like a second skin. The first thing I noticed was in the shorts. Usually when you place on cycling shorts you need to get things adjusted and there is usually some pressure in that area. Not so with these. For the full duration of my ride today it was still super comfortable. The jersey was super comfy too, especially the sleeves. No movement, no chaffing no nothing. The base layer was well like a second skin. I am sure it is going to exceed my expectations but today wasn't a super rigorous ride in heat to properly test a base layer so I need to put it through its paces a little more.
As you may know cycling clothing is all over the place in sizing. Much of it cut for only the "perfect" cycling body. The most common are race cuts, semi form cuts and club cuts. One would think with Assos being a Swiss company that it would be cut on the smaller side. For the bibs I think they run true to size. They were a little snug when I put them on but that was due to the compression in the short and wasn't a concern. The other thing you need to remember when trying on bibs is that they are designed to be worn while bent at the waist. So it you put them on in a dressing room and stand straight up the straps may feel snug. That is normal. You want them to be comfortable while you are cycling in them. The jersey I would say does run a little smaller than normal but not as much as I have seen in other brands. The skinFoil is super stretchy and fit perfectly against the body and is the most comfortable base layer I have ever worn.
So what was my mistake? My mistake was I finally rode in the kit because now I am in love and I am not sure other shorts will ever measure up. The difference was that noticeable and I imagine they will only get more comfortable when they are completely broken in. I usually find that 100 miles or so of riding is what it takes to get a new pair of shorts broken in.
With the mangussta jersey the most comfortable part was certainly the sleeves. I usually have an issue there because I am broad in the shoulders and it is tough to find regular shirts to fit let alone a jersey. I love that the Assos fits in the shoulders and is not baggy in the body. One thing I didn't do and plan on doing is to load up the pockets to see how the jersey feels. Does it tug, do the items stay stable in the pockets or does the back of the jersey move?
My plan is to ride in the kit again and then come back with a more detailed review. I was just so blown away today that I had to share my experience.
I know without a doubt that I will be adding to my Assos clothing collection.